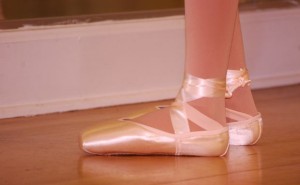 At first glance it might look like the classical art of ballet has adopted hooping and added it to its repertoire.
Not quite yet, but maybe it could happen.
The Carolina Ballet Theatre in Greenville, SC recently sponsored an evening of hooping in their performance space.
A group of about ten women have been meeting in the Ballet Theatre's rehearsal space to practice their hooping skills.
Sometimes the activity even spills out into the parking lot.
What's next, the introduction of "hooperinas" to this year's Nutcracker?