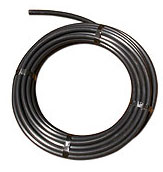 Making lots of hoops, either to sell or as activity for a camp or youth group, gives you the opportunity to buy in larger quantities and save some money.
The best value for making lots of hoops is to purchase either 100 foot or 300 foot rolls of black plastic irrigation pipe from a plumbing supply house or a home improvement store.
You can make 7-9 large hoops (approx. 48 inch in diameter) or 12-15 hoops for small children.
Save even more by purchasing a 300 foot roll.
Now it's time to decorate. Here's what you need.